Description
The Premier Mac Data Recovery Software!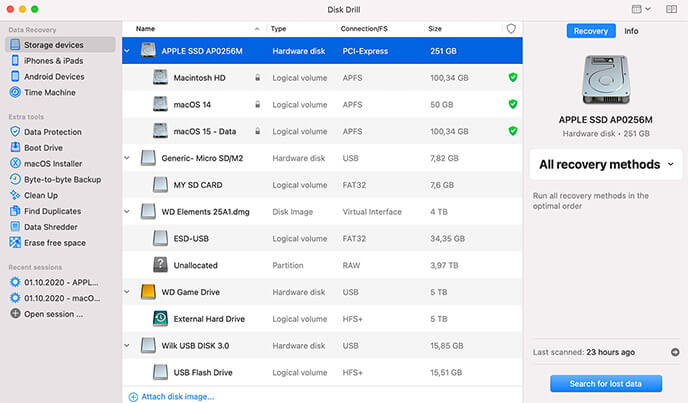 Recover All File Formats

Recover any file or folder or reconstruct 200+ file types with multiple recovery methods.

All Major Devices Supported

Connect your storage device & recover data in minutes. Disk Drill supports iOS and Android recovery as well.

No Expert Skills Needed

Download Disk Drill, a do-it-yourself data recovery app. Just one "Recover" button to get it all done.
Extra Free Disk Tools
Disk Drill is not only about Mac data recovery. It's also packed with useful disk tools for all data professionals and home users. The following extra tools are free and packed in Disk Drill right out-of-the-box. There's no need to buy more apps to clean up your Macintosh, find duplicates on your hard drive, backup your data, or monitor your disks' health. Download free Disk Drill, and you are all covered. Additional tools are free.
Latest release: Disk Drill 3.0, requires Mac OS X 10.8.5+.
Other versions available for
older Macs
.
Scan for Lost Data
Free Disk Drill can scan and recover data from virtually any storage device — including internal Macintosh hard drives, external hard drives, cameras, iPhones, iPads, iPods, Android devices, USB flash drives, Kindles, and memory cards.
In many cases, Disk Drill can read your device even if it is failing, unreadable, or has lost a partition. Combining several powerful scanning algorithms, Disk Drill provides a complete Mac data recovery solution.
Recover lost data on Mac
Disk Drill makes data recovery in Mac OS X super easy. With just one click of a button, it will run through all of its scanning functions and display a list of files that can be potentially recovered. You can even preview these files so that you can determine which ones can be successfully recovered.
If you have Disk Drill's data protection features enabled, some methods of file recovery on your Mac are free! If not, a quick upgrade will enable you to recover deleted files and get back to work.
Simple Mac File Recovery
Disk Drill puts the emphasis on easy. You shouldn't have to be a Macintosh expert to recover files. We have designed our program to ensure that you don't have to spend hours figuring out a new program. And our online knowledgebase provides detailed, step-by-step instructions for each Disk Drill feature.
On the other hand, if you're a computer expert, there are plenty of ways for you to customize the recovery process. If it's possible, Disk Drill will recover deleted data for you.

Restore Data on Any Internal or External Storage, iOS and Android
Hard drive or memory card went suddenly blank or is not recognized? You may have a lost partition issue. The data might still be there, but the "map" the Mac computer needs to find the data might be lost. Disk Drill enables you to restore the lost partition and get back your data, if it's still there. All mountable devices are supported. Various recovery methods are available based on the file system, even formatted drives are recoverable.
Laptops and Desktops

iPhone/iPad/iPod

Digital Cameras

Internal & External Hard Drives

USB Flash Drives

Android Devices (rooted)

Memory Cards

And more…
iOS Devices

Wrong swipe or tap? We can help you get your deleted data back on iPhone or iPad. Disk Drill recovers multiple file types from your iOS device, like call history, contacts, messages and more.

Android Devices

It happen to anyone, especially on a mobile device: you can accidentally delete your photos, texts, documents. Don't panic. Disk Drill 3 can recover your lost Android data.
Top Use Cases for Mac Data Recovery